Mission Statement
La Asociación Española de Nueva Iberia, Inc. (LAENI) is a nonprofit, volunteer organization incorporated in the City of New Iberia, Louisiana to serve as a vehicle for the recognition and promotion of the Spanish ancestry and culture in New Iberia and throughout Louisiana. LAENI, Inc. encourages, supports and directs programs and activities involving educational, culinary, music, and art exchanges while creating an awareness and deeper understanding of our local Spanish heritage.
Goals
To promote, celebrate, and recognize our local Spanish heritage and culture
To create an awareness of the Spanish influence in Louisiana
To educate the public on Spanish history by hosting a lecture/workshop series
To promote the celebration of Spanish History Month in our community
Objectives
To Plan and stage the annual El Festival Español de Nueva Iberia
To continue to participate in an annual student exchange program with IES Capellania in Alhaurin de la Torre, Malaga, Andalucia, Spain
To support the exchange of food, music, art, and history between New Iberia and Alhaurin de la Torre by collaborating with Alhaurin for our annual Spanish Exhibits
To plan and host an annual meeting of LAENI, Inc. each year
To host lectures and workshops related to the annual festival theme
To promote the teaching of the Spanish language to intrested individuals
To collaborate with Spanish and Canary Island associations/venues in Louisiana
LAENI
Board of Directors
Brinkley Segura Lopez, President
Lauren Greig, Vice President
Ashley Verret, Treasurer
Dustin Johnson, Secretary
Darren Romero
Michelle Blanchard
James Viator
Tessie Segura Dore
Barry Segura
Donna Gary
Ricky Segura
Korie LeBlanc
David Hulin
Chantel Peltier
Honorable Board Members, Sydni LeBlanc
Blake Miguez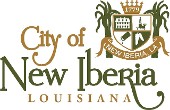 Crochet Ceiling down Church Alley Featured on:
Click here to read the article from Spain!
Spanish Festival 2016
featured on
AAA's Southern Traveler Magazine