Have you ever dreamed of traveling to Spain?
Now your dream can become reality!
Malaguenos Heritage Tour 2020
July 1-8, 2020
This ancestry tour is specially made for the Malaguenos population that settled in New Iberia, Louisiana.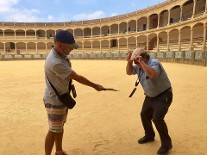 The Malaguenos Heritage Tour will include:
The tour will include your round-trip flight to Malaga, Spain
Seven nights at Hotel Cortijo Chico in Alhaurín de la Torre
Seven breakfasts
Seven dinners
One tapas meal
One meal at our paella cooking class
Genealogy research at the local archive
Entry at all events and museums
Trip to Cadiz, where Malaguenos stopped to get provisions before they headed to Louisiana
Tips given to our tour guide
Our tour guide will be Jose Manuel De Molina who is a resident of Malaga and is the man
who did most of the legwork that brought New Iberia and Malaga together as sister cities.
He is very excited about our visit and will make a very qualified host and guide for us
during our stay.
Setenil, Spain
*Option 1- Double occupancy room, Flight included- $4,100 per person
*Option 2- Single occupancy room, Flight included- $4,600 per person
To hold your spot, you will need to fill a registration form and put down a deposit of $2,000 per person
Click the link below and you will find all of the details about the tour.
If you are interested in booking and would like to learn more, please contact:
Cynthia Seitz, cynthia@seitztravel.com for more infomation and booking.
LIMITED SPACE AVAILABLE, BOOK NOW!