2023 Festival Poster Design Coming Soon.....
2018 Poster Unveiling Ceremony
"Spain Alive"
Thursday, April 26th 2018 * 6:30pm
Clementine's On Main
The artist of this year's poster, Troy LeLeux, will be on hand to sign his art work. Troy did an exceptional job of making our festival theme, "Spain Alive", represent all that is alive in our Spanish heritage and culture here in New Iberia. Signed posters by Troy will be available for purchase.
2016 Poster Unveiling
"Remembering Francisco Bouligny"
Special Thanks
2016 Artist
Ms. Susan Nugent Clark
This year's poster is very special as it was designed by local artist Susan Nugent Clark who has been an artist most of her adult life and has a degree from USL in Art Education. She has taught art in both the public and private schools in the area for the last 40 years. Her paintings have won many honors including a Sugarcane Festival Poster and a commemorative poster for the Shell Oil in Houston. Susan is very grateful to have been asked to create the artwork for this year's Spanish Festival since her ancestry includes the Segura family from Malaga, Spain. Susan has done a tremendous amount of research on this year's theme, "Remembering Francisco Bouligny" and has done an exceptional job of portraying the arrival of the 16 Spanish families led by Bouligny, first to Charenton near the Chitimacha Nation and then down the Bayou Teche to present day New Iberia to establish the colony of "Nueva Iberia" in April 1779.
2015 Poster Unveiling
"Celebrating Spanish Painters and their Works"
Special Thanks
2015 Poster Designer
Ms. Jane Braud
LAENI
Board of Directors
Brinkley Segura Lopez, President
Lauren Greig, Vice President
Ashley Verret, Treasurer
Dustin Johnson, Secretary
Darren Romero
Michelle Blanchard
James Viator
Tessie Segura Dore
Barry Segura
Donna Gary
Ricky Segura
Korie LeBlanc
Christopher Segura
Chantel Peltier
Matt Lopez
Hannah Bee
Sydni LeBlanc
Sara Espinosa
Honorable Board Members, Queen, Chloé Mixon
Blake Miguez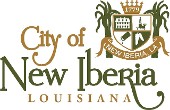 Crochet Ceiling down Church Alley Featured on:
Click here to read the article from Spain!
Spanish Festival 2016
featured on
AAA's Southern Traveler Magazine